Hello! Excuse my absence from Stitch Freak. Busy time of year. But I am back today to count my blessings as I have been soundly spoiled this Christmas.
Exhibit A: my lovely mom and sister had me opening bag after bag of fun craft supplies and storage (among other gifts). Oh they know me so well. This is just a taste:
And, yes, I do need all that glitter.
I also received, from my darling grandma and my brother, several crafty books:
365 Tiny Cross-Stitch Designs, Doodle Stitch by Aimee Ray, and this Dover book of Early American Embroidery Designs
Expect to see some of these designs on the blog soon…
Special thanks go to Liesi of Too Crewel. Have you been to her blog? If you're a stitcher, you will love it. I do. I was delighted to have recently won a contest on her blog. She gave away these awesome teeny tiny embroidery hoops from The Creative Muster and promptly sent them to me along with a sweet little needle felted bluebird of her own making.
Such a gift. Thank you, Liesi!!
Lastly, I am working on a butterfly. He's machine sewn with wire inside his wings to give them some structure. The fabric is a reuse of a reused item – a thrifted quilt of vintage pieces.
I'm working on how to attach the wings. A finicky bit of hand sewing will be involved, no doubt.
Also, I just ordered some frame cards from Subversive Cross Stitch.
And, after browsing The Creative Muster in the creation of this post, I've come across this darling loom. It shall be mine.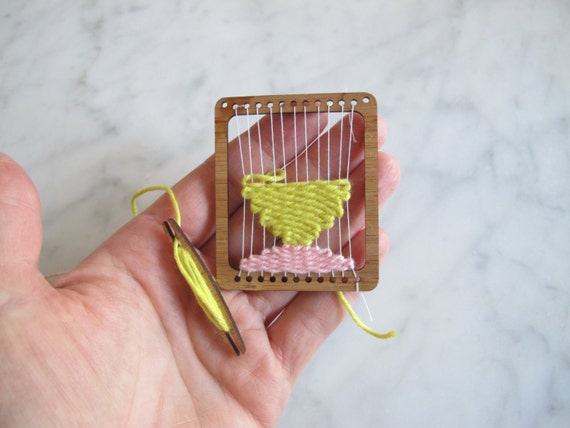 Where to start?!
So, how were your holidays?
xoxo, Shannon