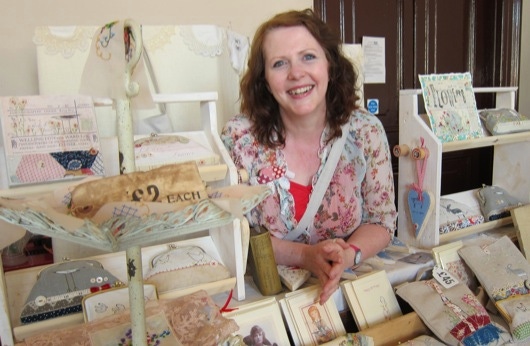 I have admired the work of Viv Sliwka of Hen's Teeth for some time now. She's one of the stitchers I follow intensely on etsy. I love that she has a signature style and, while she's always coming up with creative ways to express that style, every piece fits into it. Does that make sense? I'm so glad Viv was able to spend some time with us.
Where do you live/work?
I work in a purpose build wooden building in my garden, Stafforshire, UK.
When did you get into embroidery/sewing and why?
I have always embroidered, ever since I was very little. I have always drawn too, so the two things go hand in hand. Drawing and sewing is just part of me.
How would you describe the style of your work?
I would describe my style as naive and imperfect.
Name three things that inspire you…
Landscape, although this doesn't really feature in my work. Old paper ephemera and birds.
What was the last good book you read and why did you like it?
I don't read. I dare not. If I do, all I want is to sit and read. I also work every hour I can, so not much time for sitting and reading for me. That sounds really bad.
Where do you do your work (in a sewing room, on your patio, in front of the TV, etc.)?
I have my own studio, full of my tat and stuff that I use in my work. Collections and all the bits and bobs that inspire me too.
Ok, you're stranded on a desert island. Which five items do you hope to have with you?
Pencils, paper, thread, fabric, coffee
How do you come up with the designs for your pieces?
My mind rarely wanders from my work. I am thinking of ideas and designs all the time. I will pop them into my sketch book and then have a go!
What are your hobbies or passions outside of stitching/art-making?
Flea markets, eating, music, films, Pinterest
Thanks so much, Viv! Check out more of Viv's lovely work in her shop and get some extra details on her blog.
xoxo, Shannon